Tea at the Colonnades
At the Colonnades we have created a selection of teas that will perfectly complement your afternoon tea. Our range of leaf teas includes white, green, black, rooibos and fruit teas blended by the Wee Tea Company. There's something for every palate. Over the coming weeks, on Tea Tuesdays, we will introduce our teas. Discover the fascinating stories behind the teas and discover tasting notes too. Choose your favourite for your next visit to the Colonnades.
Ginger Chai
The Story
Chai Tea is a flavoured tea beverage made by brewing black tea, normally an oolong, with a mixture of aromatic Indian spices and herbs. Originating in India, the beverage has gained worldwide popularity, becoming a feature in many coffee and tea houses. It is traditionally prepared by a decoction of green cardamom pods, cinnamon sticks, ground cloves, ground ginger, and black peppercorn together with black tea leaves.
"What is the origin of masala chai?" the Chai Pilgrimage blog asked people on their voyage across India. The most common response was Grandmother's chai - a blend of plant roots, bark and seeds brewed together to nurse unwell family members back to health or for use as a tonic to keep them healthy. The tea recipe has been passed down from mother to daughter over hundreds of years. Even today many of the ingredients now found in a cup of classic Masala Chai are now used to treat minor ailments.
Ginger Chai Masala is one of the teas we infused to flavour our bespoke Signet Gin.
Tasting notes
Our Ginger Chai is a hot blend of black tea and exotic spices, based on a traditional indian Masala Chai. This fiery, sweet, spicy aromatic tea is sure to warm you to the very core - it's a real hug in a mug.
---
Oolong Formosa
The Story
In 1590, when Portuguese sailors first laid eyes on the towering, mist-shrouded mountains on an island some ninety miles off the coast of China they named it 'Formosa'—the beautiful island. This island is now known as Taiwan.
The Dutch first developed the tea trade in Taiwan in 1624 when the island served as a strategic staging post between China and ships bound for Europe.
In 1866, a British trader John Dodd, introduced oolong tea onto the world market. It was a lighter, fruitier tea than the teas popular at the time. He offered financial incentives to local farmers to start plantations and to build tea factories in the capital Taipei. He knew that the British would soon have their own tea plantations in India and the tea Taiwan produced would need to stand out.
After the Japanese conquest in 1895 industrialisation continued. The Japanese introduced Tea Institutes and training to aspiring tea masters but the focus had moved away from oolong tea. It was only after Taiwan became part of the Republic of China, after the second World War, that the focus changed back to oolong. There was too much competition from the mainland's teas. Nowadays over 90% of Taiwan's total tea production is oolongs, grown on around 50,000 acres by about 6,000 small family-owned tea farms
To make the tea, the leaves are withered in the sun and turned in bamboo baskets before rolling. It has large roughly rolled leaves and a sweet aromatic flavour. Oolong, meaning Black Dragon, is a semi-fermented tea, a cross between green and black teas.
Tasting Notes
Our oolong tea has a deep raisiny and ripe fruit aroma with autumn 'leafy' notes. It has a lingering flavor and smooth and refreshingly fruity astringency. A lovely introduction to Taiwanese tea.
---
Darjeeling Tea
The Story
Regarded as the "Champagne of Teas," Darjeeling is grown on 100 estates on the foothills of the Himalayas. The main issue with Darjeeling tea is quantity. There is never enough to satisfy demand - the area where it is grown (18,000 hectares) is far smaller than Assam for example and the yield is less per acre. In a good year total production amounts to less than one percent of all the tea India produces.
The growing conditions are extraordinary. As the location is very high, it is colder and growth is slow and the crop difficult to harvest. Tea bushes are planted on slopes of up to 70 degrees and at altitudes that are at the limit of where tea will grow. The type of tea plants grown is also unique. They are of the China type typically only found in China and Japan and the Caucasus. These bushes are more resistant to cold than the Indian native bush, the Assam, but have much lower yield and smaller leaves. Picking the leaves is also different - shoot of two leave and one bud must be picked. A tea bush may yield only 100 grams per year.
Light and delicate in flavour and aroma, and with undertones of muscatel, Darjeeling is an ideal complement to dinner or afternoon tea. The first "flushes" (pluckings) are thought to produce the best Darjeeling vintage but all crops are of very high quality. Darjeeling like champagne must come from a specific area to be called Darjeeling.
Tasting Notes
Light, floral, and refreshing. Colour of champagne and a mouth feel of velvet. Perfect to enjoy straight out of the pot no milk necessary.
---
Gunpowder Tea
The Story
Gunpowder tea is a form of green Chinese tea created in Zheijin province in China. Its curious English name comes from its appearance - it looks very like gunpowder grains from the era it first became popular outside China. Its Chinese name is far more descriptive, it translates as "wrapped kind" Gunpowder tea production dates back to the Tang Dynasty (618–907) but it was first introduced to Taiwan in the 19th century.
The distinctive appearance of gunpowder is created during processing. Gunpowder tea leaves are withered, pan roasted rather than steamed, rolled, and then dried. Although the individual leaves were originally rolled by hand, today most gunpowder tea is rolled by machines. Rolling renders the leaves less susceptible to physical damage and breakage and allows them to retain more of their flavour and aroma. Higher grade tea can still be hand rolled. After rolling, the tea is then dried. Generally, the larger the pellets, the poorer quality the tea.
Fascintating fact: Gunpowder tea is an essential component of traditional North African mint tea often found in a Moroccan tea ceremony.
Tasting notes
A stronger green tea, with more of a caffeine hit than most green teas, its smooth with a very lightly smoked finish.
---
Jasmine Tea
The Story
Jasmine tea was first produced over 1000 years ago during the Song Dynasty period in China.
Green tea is flavoured with jasmine blooms. Tea leaves are harvested in the early spring and stored until the late summer when jasmine flowers bloom. As jasmine flowers open at night, they are picked early in the day when the small petals are tightly closed so the opening can be controlled.
The fresh flowers are spread thinly and brought to a temperature of between 32° and 36°C to encourage them to open. When 80% of the blooms are open, they are ready to scent the green tea.
Piling up the jasmine flowers
Layering is the most important part of the process of making Jasmine Tea. Alternate layers of blossoms and tea are made. Depending on the grade required, the height of the heaps and time left to mature varies greatly. For an average grade, the temperature required is between 45°C and 48°C taking to 6 hours to absorb the fragrance and flavour of the jasmine blossoms. This scenting process may be repeated as many as six or seven times. The cooling process takes a further 6 hours and then the spent flowers are separated from the green tea.
A few fresh jasmine flowers are then mixed into the separated mixture (called rescenting) to enhance the flavour for a further 6-8 hours at 8% humidity. The tea absorbs moisture from the fresh Jasmine flowers so it must be cooled and dried again to prevent spoilage. It is now ready for packing.
Tasting notes
A fresh and soothing green tea with the delicate aroma of jasmine blossoms.
---
Mao Feng
The Story
A young man and a beautiful young lady fell in love, but the local tyrant seized her as his concubine. She escaped, only to learn that the tyrant had killed her lover. Finding his body deep in the mountains she wept and wept until she became the rain, while her lover's body turned into a tea bush. Which is why, according to the legend, the area where Mao Feng tea grows is forever cloudy and humid the whole year round.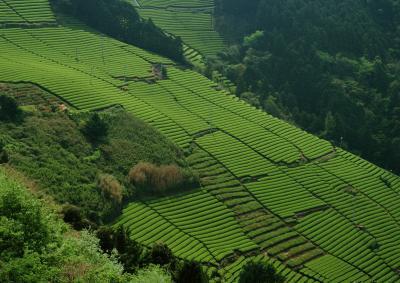 Tea bushes growing on Huangshan Mountain
An old Chinese saying says "famous mountains produce famous teas". Huangshan Mountain (Yellow Mountain) in the Anhui province, Eastern China is one of China's best-known mountains and is where several high quality teas are grown. Tea began to be produced in the area 1200 years ago!
Mao Feng tea is special. It's often called white tea due to the white tips of the leaves, although in fact, it is a variation of a Green Tea. Maofeng describes the way in which the tea is collected, taking only the bud and 2 leaves of equal length making this tea fairly rare and pretty special!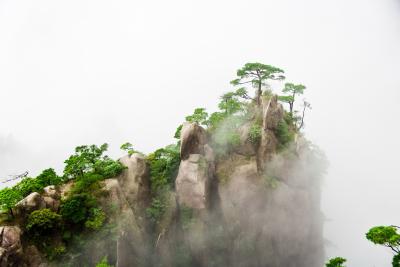 The misty atmosphere on Huangshan Mountain
Tasting Notes
It is unlike any other green tea on the market. A green tea liked by people who don't like green tea.The tea tastes of breathing in the summer air whilst relaxing by the sea and has notes of peaches and apricots.
---
Rooibos
The Story
Rooibos is grown only in a small area in the region of Cederberg in the Western Cape province of South Africa. Rooibos is a broom-like plant whose generic name comes from the plant Aspalathus Linearis (or "red bush") plant. Rooibos has very similar growth and flowers to the redbush.
The ancient Khoisan tribes that lived in the area used it as a herbal remedy for many different ailments, and they may have been the first to discover that the needle-like leaves could be used to make a drink.
The rooibos plant in flower
Rooibos pioneers used axes to harvest the plant after which they then bruised the leaves with hammers, before leaving it to ferment in heaps and to dry in the sun. Today the plant is harvested and processed in very much the same way although using more sophisticated tools.
Rooibos' vibrant hue comes from the natural enzymes that develop during the fermentation (or oxidation process) and enhance the flavour.
Harvested rooibos
Its recent popularity can be traced back to a South African mother. Mrs Theron published a book in the 1960s praising rooibos for reducing her child's colic. She subsequently went on to develop a range of skin products. In the 1980s, it came to the fore as an anti-ageing product in Japan.
Nowadays rooibos is praised for its high levels of antioxidants, a lack of caffeine, and its low tannin levels compared to fully oxidized black tea or unoxidized green tea leaves. Rooibos is purported to assist with nervous tension, allergies and digestive problems.
In South Africa it is common to prepare rooibos tea in the same manner as black tea, and add milk and sugar to taste. Many prefer it with a slice of lemon and honey instead of sugar to sweeten.
Rooibos is one of the teas we infused to flavour our bespoke Signet Gin.
Tasting notes
Hazelnuts and hay. Imagine late summer days strolling in the meadows.
---
Russian Caravan
The Story
This is a Chinese tea, but its name comes from the camel caravans that traded along the old silk and spice routes. The 6000 mile journey from China to Russia would have taken at least 6 months. Legend has it that the smoke from the campfires scented the tea on its journey. Other stories suggest its delicacy of flavour was achieved when unloading the packages onto snow! It is an elegant tea that evokes the scent from roasted chestnuts on an open fire, the sun sinking down after a hot sunny day and smoking jackets.
.
Silk Road, Caravan of Camels Resting, Antioch by Prisma Archivo
Tasting Notes
This tea is a blend of China Keemun, Oolong Formosa and Lapsang Souchong. It is aromatic with sweet, malty and smoky flavours.
How to book
We invite you to book online to make your reservation (use the widget top right) or call 0131 226 1064.
Colonnades is open Sunday – Friday 11am to 8pm. Last sitting for Afternoon tea 6 pm.